Undoubtedly one of the most difficult and emotional developmental-disabilities to deal with is the spectrum of autism (AAD), in part because autism is poorly understood. What causes it? Why are there so many variations? How can it be managed to improve life for the family and the individual affected? One of the most difficult things to do is to break through the isolationism and have some degree of communication and interaction — to reach through the wall and connect.

Most of us cannot imagine the isolation that accompanies AAD, although, if you're interested in trying, I encourage you to read The Curious Incident of the Dog in the Night-time by Mark Haddon, a personal account of what it is like to be autistic.

How might dogs help children with autism?
Various animal assisted therapies have been attempted to treat autism and have given researchers reason to hope. Animals used for this kind of therapy have included dolphins, horses and dogs.  

In the case of dogs, little scientific evidence of long term improvement has been documented; still, dog assisted therapy has continued to be applied in an effort to foster interaction that may provide positive experiences for affected individuals and their families. Recent, anecdotal evidence has further supported the idea that autistic children will respond well to interaction with dogs.

What evidence is there that dogs can help autistic children interact?
Self mutilation, incessant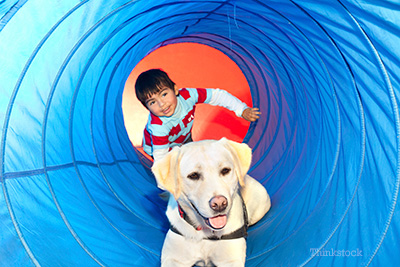 screaming and sleepless nights were, for years, a daily part of life for one little boy named Tommy Schiller and his family, who live in Kirkwood, MO. As reported by Owen Skoler of the Kirkwood Patch, a service dog named Art joined the family and within a week Tommy was sleeping soundly. His obsessive behaviors improved, his meltdowns were mitigated, and he now has a sound night's rest. According to his mother, Art also helped Tommy with his social skills by helping to break down barriers between Tommy and other children.

New Orleans' Tyler Zelaya, also diagnosed with autism at a young age, had his own difficulties with social interactions, says WWLTV.com. But ever since Bear — a Chow-Lab mix originally trained as a post traumatic stress disorder therapy dog — he has improved dramatically. Tyler, like most AAD patients had difficulty interacting with others. Now he is communicating much differently. His mother shared, with WWLTV, "He's actually going up to people and telling them hello and waving at them and asking them what their name is."

Despite the fact that experts say there has been little research on the long term effects of dogs on autism, Tyler's mother, Nikki Grant, says seeing Bear with her son is "all the proof she needs."

Is there any scientific evidence that dogs help autistic children?
In Columbia, Missouri; studies continue at the Research Center for Human-Animal Interaction at the University Of Missouri College Of Veterinary Medicine. Alex Cukan, with UPI.com, reports that research fellow Gretchen Carlisle "interviewed 70 parents of children with autism. Two-thirds of the families owned dogs, and of the families with dogs, 94 percent of the parents reported their children with autism bonded with the dogs….Even in families without dogs, 70 percent of parents said their children with autism liked dogs."

I have had the opportunity to take care of a number of dogs who lived with autistic children. Some of these kids were severely affected and significant results were not noticed. Regardless, while interacting with a service dog may not be yet proven to provide long term improvement, it undoubtedly provides moments of interaction and pleasure. The stories of Art and Bear, as well as my own experiences, have taught me a great deal about the power of pets.
If you have any questions or concerns, you should always visit or call your veterinarian -- they are your best resource to ensure the health and well-being of your pets.