When we lose someone, that loss creates a vacancy in our lives that can never easily be filled. In early March, our Pet Health Network community and the broader veterinary community lost a friend, mentor, and leader with the passing of Dr. Peter Kintzer.
On March 2, Peter unexpectedly died near his hometown of Sutton, Massachusetts, after a tree toppled onto his car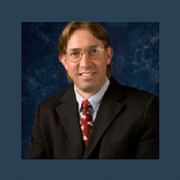 due to extremely high winds. He leaves behind wife Katey, daughter Zoe, son Zygmont, and five family dogs, a favorite of which was his Newfoundland, Lucy.
A long-time Pet Health Network family member and renowned internal medicine and endocrine specialist, Peter touched the lives of many with his kindness, passion for his profession, and the brilliance he was known for throughout the veterinary field. 
Peter launched a rich and rewarding career in veterinary medicine after receiving his DVM from the New York State College of Veterinary Medicine at Cornell University. He completed an internship at the Animal Medical Center in New York City, followed by a residency in small animal internal medicine at Tufts University School of Veterinary Medicine. For decades, he helped support quality clinical decision making as an internist at specialty hospitals across New England.
Peter served as an ambassador and field expert for IDEXX Laboratories. He also contributed greatly to the IDEXX Learning Center and to Pet Health Network, where his articles have helped demystify pet health and promote critical preventative care.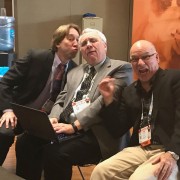 If you speak with his colleagues and friends, it's not titles or positions that best defined Peter— it was the way he approached life, with a thoughtfulness and gentle sense of humor that endeared him to so many. Since his passing, members of the veterinary field have shared their memories of Peter and ways they will continue to honor his life. We've included some below this article. (Photo: Peter (left), Dennis DeNicola, and Fred Metzger brought a little humor to a veterinary conference as they prepped for a case presentation.)
The Dr. Peter Kintzer '85 Memorial Scholarship has been established and is open to donations through the Cornell University College of Veterinary Medicine. If you plan to give, please be sure to specify the name of the scholarship at the time of your donation.