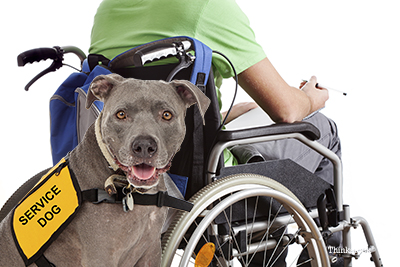 This month I wanted to highlight another worthy organization. According to their website, 4 Paws for Ability is an organization whose mission is to place service dogs with disabled children and veterans who have lost the use of limbs or hearing. Founded by Karen Shirk in 1998, the inspiration for 4 Paws for Ability came from her own difficulties obtaining a service dog four years prior. Struggling with myasthenia gravis, a debilitating autoimmune neuromuscular disorder that can lead to respiratory arrest, Karen attempted to obtain help through traditional service dog agencies. Since she often relied on a ventilator to breathe at the time, they deemed her "too" disabled to receive a service dog. However, Karen refused to give-up and she obtained her own dog and trained him herself with help from the local dog training school and volunteer trainers. Realizing that her own struggles were shared by countless others, she founded 4 Paws for Ability to provide service dogs to those in need regardless of the severity of their disability, especially children.

The success of 4 Paws for Ability
According to the 4 Paws website, What began in a one-bedroom apartment has expanded to a 6,000 square foot building. As more families learn about what 4 Paws for Ability does, the demand for their services continues to grow and there are currently plans to expand the building and double the square footage. Currently, 4 Paws for Ability places 100 dogs per year but they hope to increase their outreach with the planned expansion of their facilities. The types of service dogs 4 Paws provides include:
Mobility Assistance Dogs
Autism Assistance Dogs
Hearing Ear Dogs
Multipurpose Assistance Dogs
Seizure Alert Dogs
Although their focus continues to be on providing service dogs for disabled children, 4 Paws for Ability began placing Veterans Assistance dogs in 2011. If you would like to find out more about 4 Paws for Ability or learn about how you can help them meet their goals, visit their webpage here.
If you have any questions or concerns, you should always visit or call your veterinarian -- they are your best resource to ensure the health and well-being of your pets.