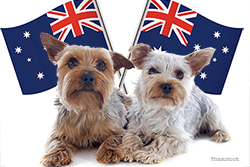 Johnny Depp is a well known movie celeb, but right now he's making headlines in the pet world. The Pirates of the Caribbean star has been filming the 5th installment of the movie series in Australia and brought his two Yorkshire Terriers, Pistol and Boo, along for the ride.
According to Nardine Saad of the LA Times, about two weeks ago, Depp and his wife were accused of smuggling the dogs into Queensland on his private jet when they didn't provide the proper documents or declare them on customs forms.
Saad reports, Barnaby Jocye, Australia's Minister of Agriculture was outraged. "Why don't we just break the law for everybody?" he is quoted as asking sarcastically. Joyce even threatened to euthanize the pups if they didn't return to the U.S. in 72 hours, Depp "acquiesced to this request," and sent the dogs back to the America. 
A lot of people may ask, 'What's the big deal? They're just two little dogs.' Well, the country has specific laws when it comes to animals to prevent spreading any sort of disease. When a pet first arrives, they usually face 10 days in quarantine, says Saad.
You may think that now, with the dogs back in America, the whole ordeal might be over, but what LA Times is calling the "#WarOnTerrier" is evidently far from it. Depp could face up to 10 years in prison with a hefty fine, well over $200,000 if the case goes to court.
Other hot stories this week:
If you have any questions or concerns, you should always visit or call your veterinarian -- they are your best resource to ensure the health and well-being of your pets.