Cats may not be the likeliest of heroes, but for one woman with Parkinson's Disease (PD), her cat Topaz helped her to "unfreeze," and thus free herself from a terrifying predicament.
Sierra Ann Hill is a writer-journalist who was diagnosed with young onset PD 20 years ago, according to her blog post on the Michael J. Fox Foundation website. In her post, Sierra told the story of being alone one evening after her caregiver left, and trying to shut a window on a rainy night by herself. Because of her symptoms, which she describes as "diminished motor skills—or rather near paralysis," Sierra fell and knocked over boxes that landed on top of her. "Over the next few hours I tried every conceivable method of physics to try and find a way to escape, but the weight on my body made any form of movement impossible," Sierra wrote.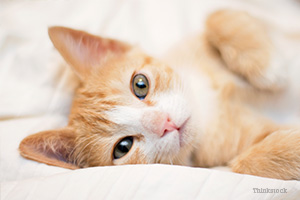 As she resigned herself to giving up, "On cue my orange tabby cat appeared and noticed something was wrong. He had been giving himself a bath and ran for cover when my fall occurred. Upon returning, he strolled over to sniff my head, since he had never seen it at eye level before."

"Topaz was about the meanest cat on the planet so this moment of compassion shocked me back to reality. Instinctively, I reached out to touch him and MY HAND MOVED." At this point, Sierra realized she had been experiencing an episode of "freezing," or akinesia, a common symptom of PD. According to the National Parkinson's Foundation, the cause of freezing is unknown, but stressful situations may trigger episodes.
The experience taught Sierra that she was able to break out of "freezing" episodes by use of an alternative movement—petting the cat had unlocked the brain "freeze." "Now, when my hand "sticks" to an armrest, I free it by clapping my hands. When I "freeze" walking, I step over an imaginary curb," Sierra wrote in her blog.
While Topaz may not have saved Sierra on purpose, his bond with her certainly played a role in his walking around Sierra after the fall, and her connection to Topaz caused Sierra to reach out even when her muscles and brain were not communicating effectively. Hooray for a Parkinson's battle won with the help of a pet!
To read about another life-saving cat, check out Hero Cat Saves Abandoned Baby from Freezing to Death.
If you have any questions or concerns, you should always visit or call your veterinarian -- they are your best resource to ensure the health and well-being of your pets.