AJ Debiasse, a technician in Stroudsburg, PA, contributed to this article.
Finding a great groomer for your dog may not seem like a very difficult task. Yet, all groomers are not the same. There are many factors to consider when choosing a groomer, and with a few guidelines, you can find the best groomer for you and your dog.
What can a groomer do for your dog?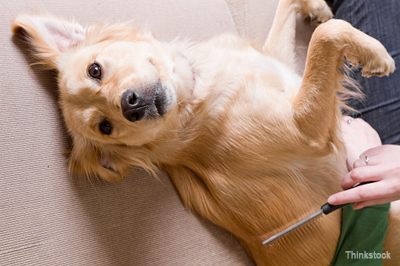 You may not have thought about it this way, but a professional groomer can actually improve your dog's health. A great groomer can alert you about:
When something changes gradually in your dog, it may be difficult for you to notice objectively.
For example, I know of a groomer who found a small mass in the anal gland of one of my patients during a "routine" anal gland expression. She alerted the pet parent and encouraged him to schedule an appointment with his family veterinarian. Surgery was recommended and the biopsy revealed a cancerous mass, which hadn't spread anywhere yet. Quick action undoubtedly extended the dog's lifespan.
Why is the right groomer important?
There are risks to taking your dog to a "not-so-experienced" groomer. Over the years, veterinarians have seen:
Unattractive haircuts
Skin irritation from products
Skin cuts from clipper blades or scissors
Exposure to contagious diseases
Orthopedic injuries (such as back, neck or knee problems)
How can you find a groomer?
So how should you choose a great groomer? Here are some tips:
You can start with referrals from friends, family or coworkers. Your family vet may also have a list of reputable groomers in your area.
Take a tour of the grooming facility. Make sure you visit the holding quarters and the grooming area, and not just the front desk.
Medical knowledge and disease prevention are not the only skills top groomers have. They also need extensive experience in animal behavior and an extraordinary amount of patience. Every dog perceives the grooming experience differently. Being able to assess stress levels and cater to each individual are key. The greatest groomers use low stress techniques such as species-specific holding areas, appeasing pheromones and calming music. Some even recommend "just because" visits so your dog can become acquainted with the staff prior to their grooming stay.
Unfortunately, the greatest groomers can't please everyone. This is the reason why basing your decision on online reviews alone may not be the best idea. It's tough to know if a bad review is legitimate or written by someone who is impossible to please. Similarly, good reviews don't mean that someone is ideal for you!
What else should you know about finding a groomer?
Vaccines should be required. Your dog should be up to date on Bordetella, canine influenza, rabies and distemper (even if your groomer does not require them). Remember, these are contagious diseases. Heartworm and flea/tick preventive medications should be given monthly, and possibly year round to prevent parasite transmission. Ask your family vet for the best prevention strategy in your area.
Ultimately, you know your dog better than anyone. Pay attention to his behavior before and after the grooming visit.
Does he seem happy to go there? 
Did the groomer listen to your wishes? 
Did the groomer point out health issues you weren't aware of? 
Did the groomer recommend a visit to your vet? 
Are you happy with the cosmetic result of the haircut?
If you are unsatisfied, speak up. Your groomer may not be aware of an error and should be willing to correct it.
A great groomer can be a valuable asset on your animal healthcare team. These tips will help you pick the right one.