Submitted by

amarathe

on Mon, 2014-06-02 10:00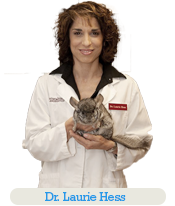 Dr. Laurie Hess is one of approximately 140 veterinarians in the world board-certified by the American Board of Veterinary Practitioners in Avian (bird) Practice. She is the only American Animal Hospital Association-accredited bird/exotic pet specialty hospital in New York and only one of three such hospitals in the country. As a bird specialist and exotic animal veterinarian, Dr. Hess solely sees birds and other exotic pets, such as rabbits, ferrets, guinea pigs, chinchillas, small rodents (mice, rats, hamsters, gerbils), reptiles, amphibians, and some more uncommon species such as sugar gliders, hedgehogs, wallabies, prairie dogs, kinkajous, and fennec foxes. She not only treats sick exotic pets, but also advises owners about preventative care/wellness medicine for exotic pets, including proper diet, environment, and behavior.
Dr. Hess decided she wanted to be a veterinarian when she was 15 years old but had no idea that exotic pets would become her passion until years later. After graduating summa cum laude Phi Beta Kappa from Yale University, Dr. Hess received her veterinary medical degree from Tufts and then completed a one-year internship at the world-renowned Animal Medical Center (AMC) in New York City. There, she was exposed to exotic pet medicine and quickly realized the importance of preventative medical care for birds and other unique species. She then completed a two-year residency in avian and exotic pet medicine and surgery at the AMC and remained on staff at there for eight years during which time she became co- head of the AMC's Avian and Exotic Pet Service. After the AMC, she went on to work in private veterinary practice in New York City, the surrounding suburbs, and Connecticut.
Having worked in public relations in New York before her veterinary career, Dr. Hess is no stranger to the media. She has appeared several times with exotic pets on "The Martha Stewart Show" and has served an exotic pet expert on Animal Planet's exotic pet series, "Little Pets 101," as well as "Peculiar Pets 101." She has been a featured veterinarian on Animal Planet's series "Faithful Friends," and she has appeared on CBS's morning show, "The Doctors," where she discussed exotic pets for people with allergies and autism. She has also appeared on numerous other TV shows including "Inside Edition," the WPIX Morning News in New York City, and FOX TV's morning show, "Good Day Street Talk," where she highlighted the benefits of exotic animals as pets. Dr. Hess has been a featured veterinarian on CBS's popular news magazine show, "48 Hours," and has appeared on Fox Business News Network discussing the exotic pet industry. She has also appeared on the Hallmark Channel's pet series, "Petkeeping with Marc Morrone." She is a regular guest on radio stations across the U.S. and Canada discussing various exotic pet topics, and she hosts a monthly Internet radio show, "Bird's Eye View." Dr. Hess was featured weekly as the "Exotic Pet Vet" on the New York/New Jersey/Connecticut cable TV station, Regional News Network, and she has been a guest discussing exotic pets on Blog Talk Radio and Pet Talk Radio, as well as on the Hudson Valley Talk Radio Network in New York.
Dr. Hess has lectured both nationally and internationally on exotic pets, regularly speaks to local exotic pet clubs and schools about exotic pet care, and has published numerous articles and book chapters on birds and other exotic species. She is especially interested in exotic pet nutrition. In the late 1990s, she completed groundbreaking nutrition research on the importance of pelleted diets in birds. She presented these findings both in Europe and in the U.S. and later published the research in 2002. As part of her work to advance avian medicine, she served as president of the international Association of Avian Veterinarians of which she is currently the treasurer. She is also a senior editor of the Journal of Avian Medicine and Surgery, a guest editor of the Journal of Exotic Pet Medicine, and an active member of several professional associations, including the Association of Avian Veterinarians, the Association of Exotic Mammal Veterinarians, and the Association of Reptilian and Amphibian Veterinarians. As a veterinarian who exclusively treats birds and exotic pets, Dr. Hess is passionate about making the lives of these unique pets better and enjoys the challenge of keeping up with the advances in medical care for all of these species.