Submitted by

Tori from the P...

on Wed, 2014-02-19 10:36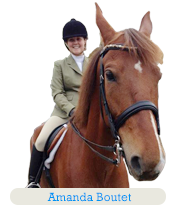 For as long as I can remember I've always loved animals: dolphins, whales, horses, lizards and even dinosaurs. When I was eight years old my mother took me to my first horseback riding lesson. From then on I was hooked. 
In 2002, when I was in 7th grade I received my first horse as a gift from my grandfather. Travis was a ten year old liver chestnut American Saddlebred, specially bred to compete in the show ring. Many tough rides came in those first years of showing, and I had to be excused from many classes. All of my efforts eventually led to an amazing five years of show seasons where Travis and I were untouchable in many divisions, bringing home plenty of blue ribbons. In 2008 I graduated from high school and left Travis at home; I traveled to Providence, Rhode Island and majored in Equine Business Management/Riding at Johnson & Wales University. After freshman year I returned home over the summer for one last show season with the now 17 year old Travis. We ended his career in July of 2009 with a retirement ceremony at the American Saddlebred Association of Maine's Summer Spectacular Horse Show. 

Throughout our career Travis had won me numerous first place victories; the Chris Vose Memorial Award; several scholarships; and a ribbon in the Saddle & Bridle Hunt Seat Classic National Championship in St. Louis, Missouri. Heading back to college I continued my studies in equine business. Classes ranged from equine anatomy to nutrition.

Sadly, on the 1st of March in 2011, I lost my beloved first horse Travis. Within two months of no longer being a horse owner I knew that I needed to have another. I packed up my things and asked two friends to accompany me as I drove down to Lexington, Kentucky - trailer in tow. We came home with Jimmy, who had just turned three years old. I gave him the show name Stonecroft Pot of Gold. Nearing the end of my college career, Jimmy and I traveled to Binghamton, New York to complete an internship under trainer Peter Axtell at China Pointe: a full service American Saddlebred show barn. 

At China Pointe I was able to get firsthand experience working in stable management: caring for and showing the stables horses. After my time in New York was complete I travelled back to Rhode Island to graduate with my Bachelor's degree in Equine Business Management and Riding.

I now have five horses. Jimmy is five years old and remains my primary show horse. Norman, who is a Shetland and miniature pony gelding, is in his early twenties. Curtis: show name Curtis B, is a four year old American Saddlebred gelding that I pulled from a truck headed to a slaughter farm in November 2012. I'm currently putting him under the saddle to become a show horse. Zip: show name Zip-A-Dee-Ay, is a three year old prospect show horse. Lastly, Mo who is a yearling Friesian colt will eventually be put under saddle as well.