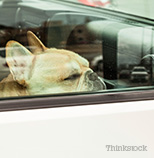 A search that had been underway for six missing dogs in Langley, British Columbia came to an end recently, after a dog walker admitted that the missing dogs had actually passed away in her hot car on May 13th. WGME 13 reported the tragic story. "The SPCA… will recommend that authorities pursue animal cruelty charges, said Marcie Moriarty, the organization's chief prevention and enforcement officer." 
The dogs (Buddy, Teemo, Oscar, Mia, Salty and Molly) were left in the car for 45 minutes and all died of heatstroke, according to Petsearchers Canada spokeswoman Alesha MacLellan.  MacLellan went on to say that, in a panic, the dog walker hid the bodies and told the owners they had been stolen. She admitted the truth only after a search effort had begun.
This shocking incident will undoubtedly leave a lasting effect on the pet parents involved. While nothing can mitigate the loss we hope that others will be reminded of the dangers that come with leaving a dog in a hot car, even with the windows down!  
Click here to see just how quickly a parked car can turn deadly>