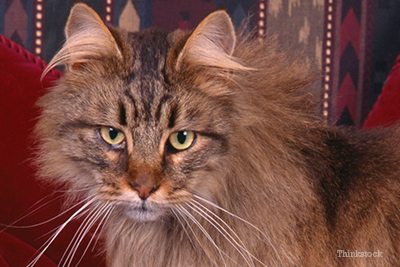 2015 has been an amazing  year for many people and pets, especially a cat named Corduroy from Oregon. Fox28 reports that this gorgeous feline now holds the Guinness World Record for the oldest living cat at age 26!
According to Fox, the year was 1989 when Ashley Okura of Sisters, OR picked out a kitten (she was only 6 ½-years-old at the time). Corduroy's brother, Batman, also came home with Ashley's family that day. Batman lived to be 19.
Setting the record
Kim Patrick, a representative from Guinness World Records spoke about what it takes to earn the record, reports Fox28, "In the case of the cat, it was a birth certificate, it was statement from the veterinarian who has been treating the cat its entire life, along with photos of the cat throughout the years."
So what's his secret?
Fox reports that Ashley has an idea about what keeps Corduroy going. She explains, "I think letting him roam the property and catch critters and get exercise has kept him really young looking." We couldn't agree more. Here are some great exercising tips for your senior companion >>
According to Time.com, Corduroy is a Maine Coon cat and the lifespan of his breed averages between 12 and 15 years. He's on his way to doubling that! Here are some cool facts about Maine Coons >>
Corduroy's amazing age is literally off the charts! He is about 120-years-old in people years. Find out how old your cat really is with this chart! >>
If you have any questions or concerns, you should always visit or call your veterinarian -- they are your best resource to ensure the health and well-being of your pets.