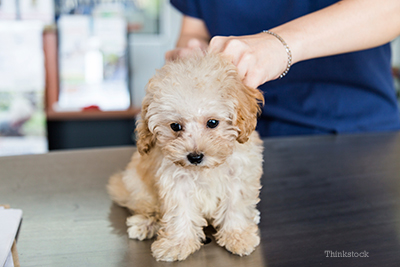 A recent emotional article published by Pendle Today warned English residents about a "killer dog virus" in two towns. The virus of concern was parvovirus, and while it is dangerous it's not exactly a new disease. It emerged in the early 1980s, and with advances in treatment it needs not be deadly today.
Nevertheless, the story raises some important issues. According to Pendle Today, Roxy the dog contracted the virus in her home town. By itself this wouldn't be much of a story but Roxy is an adult dog that had been vaccinated against the virus.  

Given the facts I'm forced to play the skeptic with regards to Roxy's case. There is no mention of a confirmatory test being performed, and there are other diseases that can look very much like parvovirus: cryptosporidium is one such parasite that can cause similar signs. A number of bacteria can also produce mirrored symptoms including severe diarrhea, vomiting, fever and depression. All of these diseases have one thing in common—they are spread by inadvertent exposure to viruses and bacteria in the feces and vomitus.

The dangers of dog fouling
Weather Roxy's disease was caused by parvovirus or something very similar, her situation raises an essential issue. It seems that Roxy's neighborhood has seen a recent increase in dog fouling. According to resident Amanda Cunningham, "Lots of people are still not cleaning up after their dog."  I want to stress that responsible pet owners should always clean up after their dogs to prevent environmental contamination.
The importance vaccinations for your dog
Beyond contamination the Pendle article also validates the importance of vaccinations. The veterinarian responsible for Roxy's successful treatment and recovery said, "Vaccinating your dog does massively reduce the risk of getting the virus - unfortunately, it is not going to be 100%, but this case is out of the ordinary." It is likely that if this was parvovirus, vaccination provided some degree of partial protection.
Fortunately, Roxy recovered and her owner Lynn is now doing all she can to spread the vaccination message to protect her dog and others.

Optimal vaccinations for dogs
Vaccinations against infectious diseases in pets are one example of a preparation that works most of the time. The message of vaccinations saving lives is a great one but we should also remember that conditions must be right for a vaccine to work optimally:
First, all vaccines must be administered at the right age and intervals. Puppies in particular require a completed series of vaccines against core diseases. Failure to complete this series may result in less protection.
Vaccines against infectious diseases are often living organisms that must reproduce in the body to be fully protective. It is important that vaccines be stored and administered according to their directions. This is particular concern when people choose to vaccinate their own pets.
There is always the potential of a new developing strain of a disease that breaks through the protection, but modern vaccines are extremely effective and provide excellent immunity against other strains so this is extremely unlikely to occur.
The fact is that no vaccine is 100% effective and protective. The best assurance of protection is serological testing or actually measuring the level of protective antibodies. Having your pet tested a few weeks after completing their initial vaccination series is a good idea. If your pet is not protected they should be revaccinated and retested in a few weeks.
On occasion an individual pet may not be capable of developing protection. Again, this is extremely unlikely. More often the pet is not fully vaccinated.
The American Animal Hospital Association Vaccination Guidelines give greater detail should you want to know more about immunizing your dog.

Make sure your pet is fully vaccinated by your veterinarian in compliance with these guidelines.
If you have any questions or concerns, you should always visit or call your veterinarian -- they are your best resource to ensure the health and well-being of your pets.