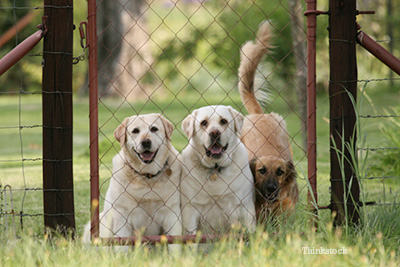 Choose dog daycare wisely
The best way to find a quality dog daycare center is through word of mouth and referrals you can trust. However, while these methods are important, you still need to tour the facility and make sure it's the best fit for your dog:
Is it clean?
Are there toys and activities for your dog?
Is play supervised?
Not all dog daycares are cage/kennel free. If that is the case, be sure to find out how often your dog will be out playing versus being inside a kennel.

Know the dog daycare policies
Issues may arise if your dog is in dog daycare on a regular basis. Since most dog daycare centers allow dogs to run around and interact, occasional incidents and illnesses can happen. Ask the employees:
What do they do if a dog appears sick?
Will they notify you if other dogs get kennel cough or other contagious diseases?
How do they prevent squabbles? (Dogs may fight over a toy or display aggression as they try to determine their place in the pack. So what does the facility do to prevent fights?)
How do they stop fights already in progress?
What will they do if your dog is injured?
What if they can't reach you?
Is there a veterinarian they use in case of an emergency?
Will they take your dog to a veterinarian right away?
Protect your pet before dog daycare
Most dog daycares require participating dogs be current on immunizations (and if they don't, I recommend finding another dog daycare). Most dog boarding facilities will require proof of current vaccinations from your veterinarian. This is for your own dog's protection as well as the protection of other dogs. If your dog has any special health issues, be sure to inform the dog daycare center about those issues and provide any medications your pet needs to take while under their care. Besides being current on vaccines, make sure your dog is on parasite preventatives before sending them off to daycare.

Drop by and observe
Many dog daycare centers offer "dog cams." Be sure to take advantage of these and check on your dog throughout the day to see how he's adjusting. You can also drop by and check on your dog in person. It is preferable to go unannounced to get a real glimpse of how your pet is doing.

Trust your gut
Everyone knows when something just doesn't feel quite right. If something turns you off or gives you a bad feeling, trust your gut. Dogs can't talk and they rely on us to keep them safe. Nowadays, there are plenty of dog daycare centers, so don't feel like you have to choose the first place you find. The goal is to find a place where you and your dog feel comfortable. Pick a place that is a good fit for the both of you.
If you have any questions or concerns, you should always visit or call your veterinarian -- they are your best resource to ensure the health and well-being of your pets.